Twitter, YouTube, Instagram, Facebook are now purging many people they consider 'far-right'. No matter if the people they purge have never called for violence – or if they even explicitly advocate non-violence, as Austrian identitarian activist Martin Sellner does – never express anything hateful against other ethnicities or nations – and even call for respect for non-European or non-Western nations (as Martin Sellner also often does).
It is enough if these people express the wish that they want to keep European identity, and thus don't want mass immigration into their countries. An attitude like this counts for these leftist social media platforms as 'far-right'.
Not to be outdone, Facebook disables your account if you share the above video on this platform:

Facebook's justification: Martin Sellner is a "dangerous person":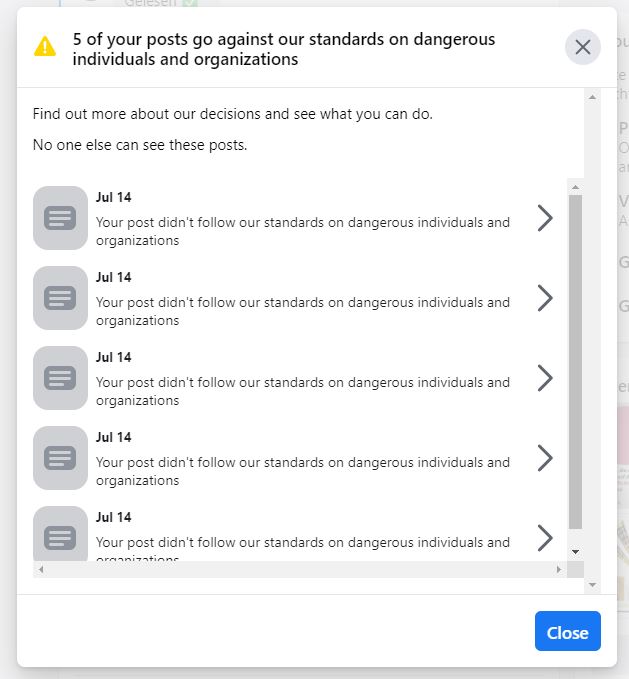 "Cancel culture" on the Internet, at its best.
Note: it is almost exclusively people on the right who are designated as "dangerous" by Facebook. Do a search on Facebook, for example, for Yusuf al-Qaradawi. He is an Islamic theologian, who at one point had a following of many millions of Muslims for his weekly TV program Sharia and Life. In spite of his close connection to the Muslim Brotherhood, you'll find his Facebook page alive and well. This organization is declared a "terrorist organization" by Bahrain, Egypt, Russia, Syria, Saudi Arabia and the United Arab Emirates. At one point the USA has also considered designating it as such.
Among his extreme views one would think Facebook would consider dangerous, al-Qaradawi advocated suicide bombings against Israelis, praised Hitler for "punishing" the Jews, and expressed the hope that the next such punishment will be carried out by "the believers" (Muslims), as the following video shows: